Have you considered solar power for your home? Struggling to pay constantly-rising electric bills adds to stress, and reducing stress is critical to our health.
Dr. Allie and her husband Dave recently installed a high quality solar system at her home and were so impressed with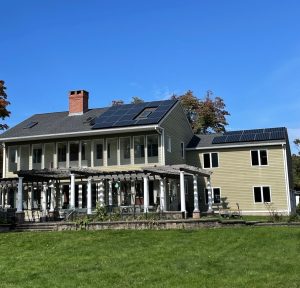 cost-effectively eliminating their electric bills, they wish to bring the same results to their customers!
Dave has a long history in the renewable energy industry and is a certified representative for Earthlight Technologies, Connecticut's only Master Distributor for SunPower equipment.

As a Master SunPower Dealer, we are proud to offer a solar energy solution to West Hartford and all of Connecticut to save you more on your electric bill compared to other solutions available—guaranteed. Our solar power company provides complete solar energy solutions and services that help you identify clean energy strategies through solar solutions and comprehensive energy efficiency programs that make sense for you.
Contact Dave today at 203-592-6955 or davidm –  at – earthlighttech.com to learn more and to get a free solar power analysis for your home or business.
How Solar Power Can Work For You
You probably know that you can save money with quality solar panels on your home. Did you also know that solar panels provide other benefits for homeowners, such as raising the value of your home, helping the environment, and also qualifying for tax credits and other incentives, depending on where you live. We can offer a solar power system for any home, no matter what type of roofing you have. We can install solar panels on asphalt shingle roofs, metal roofs, and rubber roofs. Don't want to place solar panels on your roof? No problem! We can offer ground-mounted solar panels and tracker solar panels.
The solar panel installation is a simple and easy process. First, we'll perform a site assessment, which takes about one to two weeks. During this assessment, one of our professional project managers will determine your roof measurements and solar production capability. Then, our engineering and design team will generate your final design and electrical drawings. Once we have your approval, we'll submit them to your town and utility company. Next, we will handle all permits and interconnection with your town and utility. Now, it's time for installation—and it only takes one to two days! After the installation process, we'll conduct an inspection with your town's building department. Then, your utility company will visit your home and install a net meter, allowing us to activate your system. And finally, the last step to installing a solar power system for your home is a walkthrough. This walkthrough will allow our project manager to walk you through your solar panels for your home and your new system.
Tesla Powerwall Installer
Power your lights and fridge during a power outage without any upkeep or fuel!
We're proud to be one of the few companies in our region to offer the Tesla Powerwall battery system installations to complement a solar panel installation or add to an existing solar array. With a specially-designed solar battery, you can store energy throughout the day, saving it for peak demand and nighttime energy usage. When you consult a Tesla Powerwall installer, you'll learn all about why the Powerwall is one of the best batteries on the market.
Contact Dave today at 203-592-6955 or davidm –  at – earthlighttech.com to learn more and to get a free solar power analysis for your home or business.