doTERRA AromaTouch Certification Workshop
June 2, 2019 @ 12:00 pm

-

6:00 pm

$149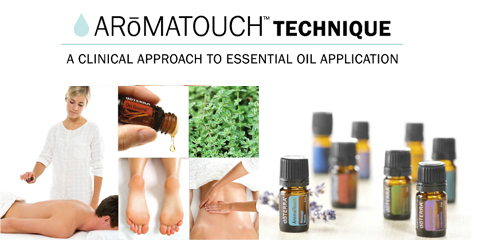 ** You must pre-register to attend this event.  There will be no registration at the door **
Registration closes on May 20th
Essential Health's own Dr Allie Mendelson is offering a workshop for you to become certified to perform AromaTouch massage.
AromaTouch Technique is a clinical approach to applying essential oils along energy meridians and visceral contact points of the back and feet to help stimulate and balance sympathetic and para-sympathetic nervous systems of the body.
The AromaTouch Technique improves well being by reducing physical and emotional stressors and by supporting healthy autonomic function. The technique is simple and intuitive and uses doTERRA's Certified Pure Therapeutic Grade essential oils for an unparalleled grounding experience.
Price is $149
INCLUDED IN CLASS:
6 Hours of hands-on instruction
AromaTouch Kit 8 doTERRA CPTG Essential Oils ($133 retail value, $100 wholesale) Stress Management: Balance, Lavender Immune Support: Melaleuca, On Guard Inflammatory Response: AromaTouch, Deep Blue Homeostasis: Peppermint, Wild Orange
Training Manual + DVD – Receive & give the AromaTouch technique
Certificate
WHAT TO BRING TO CLASS:
Massage Table, if you have one. If you bring it, we will give you a gift! I you don't have one we will match you with somebody who does.
3 Large Towels or Bed Sheets
Wear comfortable clothing. Bring a Shirt or Robe (to wear during rotations). Do not wear yoga pants or any garment with lycra or spandex in the waistband.  If you have long hair, please bring a method of fastening it into a ponytail.  Please leave your jewelry at home.
Snacks for your break, or available for sale at our store
Pen & Notebook
Scroll down to reserve your spot and purchase