Not So Abnormal Psychology: Alternative Approaches to Treating Mental Illness
November 1, 2015 @ 2:00 pm

-

3:30 pm

$20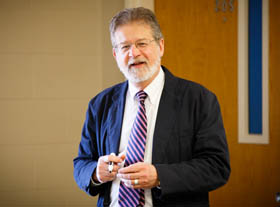 Join Saint Michael's College Psychology Professor Ronald Miller for an important discussion on treating mental illness.  The talk will be followed by a book signing.
Scroll to bottom to purchase your ticket.
Following is from a news article about his book release…
Modern society suffers from a troubling over-reliance on pharmaceuticals in the treatment of depression, anxiety, schizophrenia and other common psychological or psychiatric conditions, says Saint Michael's College Psychology Professor Ronald Miller, who'd like to change that.
Miller, a veteran educator, therapist and author, hopes his new book — Not So Abnormal Psychology: A Pragmatic View of Mental Illness, published in June by the American Psychological Association, will guide students and colleagues toward a return to therapies rooted more in people's moral understandings, development and upbringing than in pharmacology, profits and quick fixes.
He's been asserting his strong opinion on the matter for more than 30 years — ever since the introduction of the antidepressant Prozac by "Big Pharma" and its powerful marketers in the early 1980s, which he says changed everything in his field.
"I think people gradually are beginning to realize that when you start having 4-year-olds on three medications for their behavior because they don't pay attention enough and can't tell the difference between fantasy and reality – things that are normal for children their age – that maybe there's something wrong," he says.
In his training, which was typical for the pre-Prozac era, drugs were only a "last-resort" treatment for people who weren't able to function in the world. But in recent decades, even family doctors under drug-company pressure started advising patients to medicate for "just about any ill of the psychological variety," says Miller, who studied philosophy leading into psychology at Oberlin, St. Andrews in Scotland and then University of Vermont for a doctorate. He's taught both undergraduates and graduate students at Saint Michael's since 1984.
Miller feels too many therapists went along for the ride by widely embracing "Cognitive Behavioral Therapy (CBT), which essentially trains and medicates patients to think and behave differently. Insurance companies liked CBT because it was cheaper, required fewer sessions and allegedly could be supported better by measurable science than could traditional therapy.
But Miller feels that "science has limits when applied to psychology because some clinical phenomena we study only can be defined in terms of the moral understandings people have, and that's not science – that's based on people's upbringing, religion, own development of their sense of  ideals in life. You can't quantify that very well — and you certainly can't objectively measure it."
Many people are startled to learn that anywhere from 20 to 30 percent of the population today are on these strong psychotropic medications, he says, although as Miller sees it, perhaps one in maybe 1,000 or even 10,000 should be, if only because of powerful negative side-effects. "When researched by people who aren't producing them," he says, "these drugs show side effects that often include loss of sexual drive, altered eating habits, hyper-agitation and increased suicide risk, and they can harmfully alter the chemistry throughout one's entire body once one's brain chemistry is altered."
"They tended to be quick fixes that did change symptoms, but not in a lasting way, so people would get discouraged when they tried to go off of them and go back to medications," he says. "So you have people now medicating for life."
He rejects the too-common trend to immediately treat even mild psychological symptoms – not sleeping well, being down in the dumps, not getting along with the kids – with pharmaceuticals. He believes it's time to acknowledge that sometimes, it's perfectly normal to have struggles and be anxious and suffer as humans, and that facing that fact squarely and successfully, with human or spiritual support as in past eras, but without drugs, is possible and preferable in most cases.
"I think the culture is just beginning to wake up a little to this," says Miller, who is author of two previous books: his first in 1992 was an edited collection of papers on the philosophy of psychology, his specialty area; the second, Facing Human Suffering: Psychology and Psychotherapy as Moral Engagement (2004) calls for clinical case study to be reclaimed as a central form of clinical research in the mental health field.
"The argument of much of my writing is that psychology is much more about the moral environment in which we live than it is about the physical," Miller says.
When counseling students on what to make of his book, Miller references the pragmatism of psychology pioneer William James: "I say to them, I hope this book's going to 'help you in your daily life to live better,' as James might say; but if it doesn't, then you're the final judge – not me, not a doctor, not some expert on TV being interviewed on Oprah — but you! Take all these ideas and then figure out what works for you."