Healthy Habits Start Here!
Our doctors found this amazing phone app called Well World and we invite you to download it and connect with us so we can give you a customized wellness plan. Whether you are trying to lose weight, "get healthy", or are addressing a serious health issue or condition, creating healthy habits and behaviors is hard. You have to learn new things, try new things, and do new things to become a healthier you.
In order to get the app on your phone, please reach out to Dr. Allie Mendelson at: Allie@EssentialHealthCT.com, or Dr. Matthew Roberts at: Matt@essentialhealthct.com
Well World is a powerful tool you use with our health practitioners, to help you follow healthy lifestyle recommendations designed specifically for you, and create new habits and behaviors that lead to better health. Well World includes everything you need to follow your plan and track your progress – including nutrition, supplements, sleep, exercise, meditation and more – all in an easy-to-use, intuitive mobile app.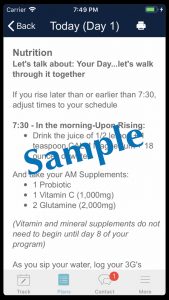 "This tool makes it easy for my patients to keep track of issues or questions so that when I'm treating them we have a very up-to-date health information to refer to," commented Dr. Allie.
"I really love that I can guide my patients on exercises and the Well World app is like having an accountability partner on their health journey," added Dr. Matt.
Well World has tons of valuable resources and smart features to help you reach your health goals:
Set Personal Health Goals together with your doctor.
Track Nutrition, Sleep, Exercise, Meditation, Supplements, Mood, Pain and more.
Lifestyle plans and educational information including nutrition, meal plans, recipes, and videos,
Nutritional supplement recommendations – so you know what to take and when to take it
Electronic Journal for keeping track of important information or reflection
Automated reminders – never worry about forgetting anything again
Use Health App to share movement, sleep, blood pressure and more data from your favorite health and fitness tracking devices.
Stay in touch with your practitioner with secure HIPAA-compliant messaging and video conferencing.
And most importantly, Well World gives you a direct connection to Dr. Allie and Dr. Matt, and gives them ability to monitor your progress in real-time, to give you the ongoing support and coaching you need to help you get healthier, feel better and truly enter a Well World.