Visit at our 645 Farmington Ave., Hartford, CT office for acupuncture treatments by appointment.
Utilizing 5,000 year old Chinese medicine, acupuncture removes the obstructions in the energy channels. When there is free flow of Qi, or life force, balance is created which brings deep relaxation and healing.
Acupuncturists use needles to stimulate certain parts of the body. The therapeutic treatment is meant to relieve pain, promote healing, and improve physical, mental, and emotional health and well-being.
Our Licensed Acupuncturist uses acupuncture to help countless physical and emotional conditions including:
Pain in back, neck, arms, legs, shoulders, knees
Allergies, asthma, upper respiratory conditions
Immune system strength
Irritability, anger
Anxiety
Stress relief
Digestive issues
PMS, Menopausal issues, Fertility
Smoking cessation
Labor induction, pregnancy nausea
High  blood pressure
Fatty liver
Fatigue and/or insomnia
Headaches
Skin issues
Call for rates. Session options include:
•Massage session PLUS Acupuncture or Dry Needling
•Acupuncture or Dry Needling w/Heat Lamp ONLY
•Facial Rejuvenation Session: Includes body acupuncture, heat lamp & micro-dermal needles. BENEFITS: Micro-dermal Needles is an anti-aging treatment that utilizes are very tiny sterile needles used on the epidermis layer of the face to induce collagen production and help in improving the appearance and texture of the skin. It can minimize stretch marks and wrinkles.
•Moxibustion (Add-on, $20): Traditional Chinese Medicine practitioners use moxibustion to strengthen the blood, stimulate the flow of Qi and maintain overall health. It is the only herb that can be used for deficiency cases such as people with autoimmune illnesses, weak immune systems, and poor blood circulation, as well as excess cases. It has potent ant-inflammatory effects chronic muscular pain, reduce fluid caused by edema in the body. 
•E-Stim Electro Therapy (Add-on $20).
E-stim therapy uses mild electrical impulses through the skin to mimic the action of signals coming from neurons (cells in your nervous system) and facilitate the recovery of injured muscles.  Also used to manipulate nerves to reduce pain. E-stim accelerates the recovery process to targeted muscles by making them contract, and this repeated muscle contraction improves the blood flow which helps repair injured muscles. This is especially helpful with stroke survivors. 
Please call our office to schedule your appointment for acupuncture with Linda. 860-269-3228, x1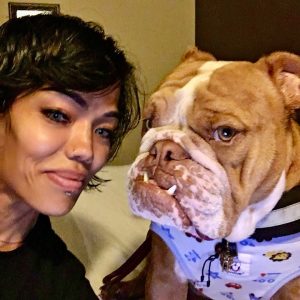 Linda Lee, LMT, LA.c (Massage Therapist & Acupuncturist) & Venus
Linda earned her AS in health science, with honors, at the Swedish Institute for Massage Therapy in 2013. She was their keynote speaker for her graduating class. She specializes in Myofascial Release Therapy, treating the fascial system for specific trauma-induced conditions. In 2020 she earned a master's degree in acupuncture from the Pacific College of Oriental Medicine in New York. She is working on a second master's degree as a Licensed Marriage and Family Therapist specializing in trauma therapy.
Linda is always accompanied by her registered English Bulldog, Venus. Linda says "She has brought healing love and joy to my life as well as the lives of everyone she meets."